Three Phase for Rising Power Usage
High power density has been implemented in applications such as high-end network switches, storage systems and supercomputing. The expansion of centralized computing causes the rack power density to steadily rise in these years. As a result, the demand of Three Phase PDUs with higher power ratings is increasing in data center field.
3-Phase Rack PDU | InfraPower Product Family
Austin Hughes has expanded its range of Rack PDU solutions in the new coming 3-Phase Rack PDU. We are offering the 3-Phase Rack PDU for the equipment usage enhancement in customer requirement. Besides, we are offering the In-Line Meter for upgrades your existing Basic PDU to be Monitored PDU.
Intelligent | Basic
with 3-Phase Single Feed Power Input Rack PDU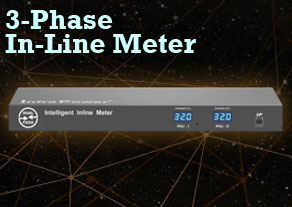 3-Phase In-Line Meter | InfraPower
3-Phase In-Line Meter is designed to upgrade your Basic 3-Phase PDU with local monitoring plus remote management.